Nigerian crossdresser, Idris Okuneye, popularly known as Bobrisky, has declared people who do not flaunt their wealth as broke.
The controversial Barbie took to his Snapchat to share a picture of himself and complain about people who still had issues with him and described his attitude as showing off when he was just trying to enjoy his wealth.
According to him, only broke people would not show off their wealths.
In his words;
"Sad….. some people still see my lifestyle as show off and oppression. My dear I'm rich i need to flaunt my wealth. D reason why many of you don't show off like me is because you are BROKE."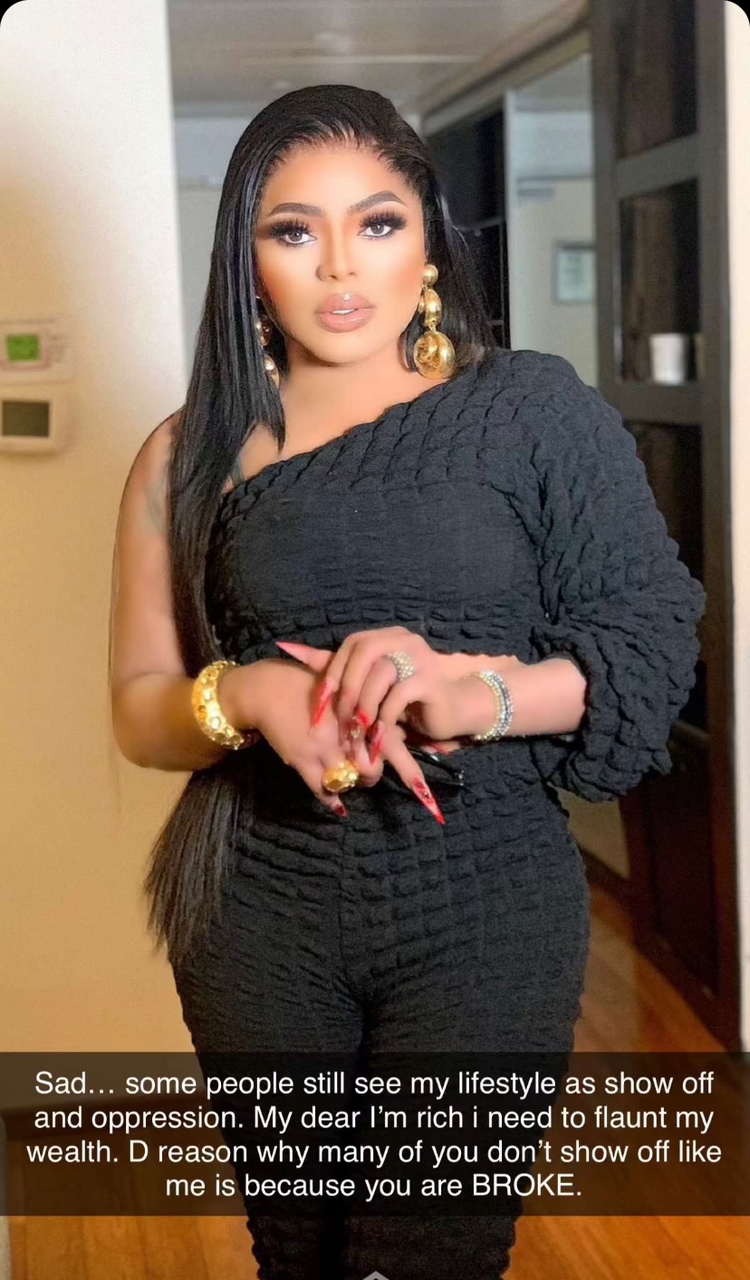 In other news, Bobrisky, has warned people to be watchful of their house-helps this festive period following his experience.
The self-styled 'male barbie' took to Snapchat to reveal that his maid attempted to cart away jewelry worth over N3 million from his house.
Fortunately, the maid was caught before she could leave the premises, and the jewelries were retrieved from her.
Bobrisky, who said he doesn't want to reveal the identity of the maid, said she quietly asked her to pack her belongings and leave his house.
Narrating the incident, Bobrisky wrote,
"My housegirl stole from me.

I'm not that person that like to post people face to clout chase i just quietly ask her to pack her bag and leave my house.

Gold jewelry… so she was supposed to go home today for her off then resume on Monday. And i already intructed my gate man not to let any of my house girl leave my house without my go ahead to open d gate. She knew i sleep late and wake late.

Before waking up dis morning she pack two gold earring and one ring then wrap it in one of her underwear.. then left to the gate to leave. My gateman ask her if she has told me she said no that I'm still sleeping..

So he insisted she must tell me before she leave.
She was begging d gateman then she started insulting d gateman, I heard their noise and I went downstairs only for me to see her all glam up that she's going. Before going outside to see her
I noticed she has pack all her belongings i was surprised cos they don't go home with all their belongings only if they are tired of working or something happen. I was then suspecting what happen and i asked to search her bag boom saw my jewelry.

It Christmas guys be watchful dis help can't be trusted. They want to steal and show off in d village."